Access Storage - Mississauga Aerowood
1335 Aerowood Drive, Mississauga, ON
1ST 4 WEEKS FREE
Photos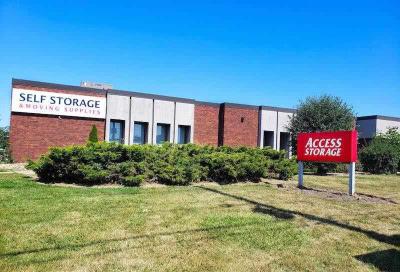 Hours
Office Hours

| | |
| --- | --- |
| Mon-Fri | 9:00am to 5:00pm |
Access Hours

| | |
| --- | --- |
| Mon-Sun | 24 hour access |
About Access Storage - Mississauga Aerowood
We are Canada's  #1 storage company and have the metal to back it up, winning numerous service awards such as the Consumers Choice Award for the best storage company. No matter what your storage needs or how long you will be renting, Access is the perfect storage solution. 

Most of our facilities offer 1st 4 WEEKS FREE or FREE MOVE IN VAN. Call now for details!
Features
Climate Control
Drive-up Access
Security
24 Hour Access
Parcel Delivery Acceptance
Drive-in Loading Bay
Packing Supplies
Dollies & Carts Available
Payment Options
Vehicle Storage
Hours
Office Hours

| | |
| --- | --- |
| Mon-Fri | 9:00am to 5:00pm |
Access Hours

| | |
| --- | --- |
| Mon-Sun | 24 hour access |
Facility Reviews
---
The storage units are clean and the building is well maintained. The staff were very efficient and friendly and helped us get situated. They have flat carts that make moving in and out easy.
---
From start to finish this company gets it right. I'm not a stranger to needing storage but I'm not a seasoned Pro either...... My first experience in storage was with a company called "out back" and silly me, I thought that meant Australia until I got there and the guy says, tossing his thumb over his shoulder, "No lady, that's outback". 🙄🙄🥴😉 Anyway my needs have changed and so I started phoning around like we all do. It didn't take long before my head was full and confused of space, styles and numbers. I was fortunate enough to stumble upon Calvin with Access Storage where he said to me, why don't you tell me what you do and what you need because I have access,... Pardon the pun... to every location on my computer. A few minutes later I was booking an appointment to view what sounded like the perfect thing I didn't know I needed. And it was... Thank you Calvin... I came out to the facility where I met with the location manager Krissh and it absolutely was the perfect thing I needed. Not your average Roll Up storage room door and cold unheated space. This was an actual heated, lighted office space for me to do my sewing in, to do my paperwork, and when the pandemic is over possibly have clients and meetings.... fingers crossed. Now this is space is a tenth of the price I'm accustomed to paying for office space so obviously I'm thrilled to my boots. I won't get into all the details of my particular needs but this company has been trained to hear what you need and respond accordingly. And clearly it does not stop just because you sign the papers. Sometime after negotiating and now having my office space another need cropped up and they bent over backwards to accommodate me. This is what customer service is. If you don't believe me, test them and I guarantee you will find something in their many locations that will work for you because their staff will hear you. I am extremely happy
---
If I could give 6 stars I would !! First time renter here and Krissh at the Aerowood location has made the experience seamless. More importantly, the attention to detail that was given, was second to none. Krissh is a very customer oriented individual, one who looks out in the best interest of the client. He always followed up, informed of any changes and provided alternate suggestions/solutions and more importantly quickly returned my calls when I had questions. I cannot say enough good things. Overall, the industry needs more people with this kind of an attitude. A+++
---
Staff is super friendly and so are the people renting other units are also super friendly had a couple people help me and my children move my stuff into my storage I highly recommend this place to anybody
---
Had a great experience with this storage place. Store Manager there Krish is fantastic and very informative and helpful. Clean facility, great prices and amazing customer service. Will always choose this location for my storage needs in the future as well.