BigSteelBox - Mississauga
2403 Stanfield Road, Mississauga ON
20% OFF the RENTAL RATE
Photos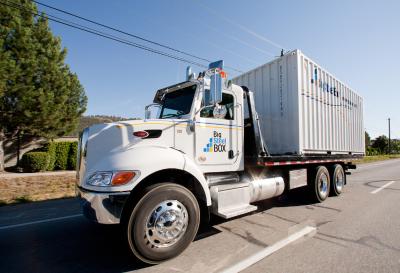 Hours
Office Hours

| | |
| --- | --- |
| Mon-Fri | 8:00am to 9:00pm |
| Sat | 10:00am to 9:00pm |
| Sun | closed |
Access Hours

| | |
| --- | --- |
| Mon-Fri | 8:00am to 5:00pm |
| | |
About BigSteelBox - Mississauga
BigSteelBox is a Canadian-owned and operated storage company that makes moving and storage feel better! We rent and sell portable storage containers in 8', 10', 20' and 40' for storage at your home or at one of their secure locations. BigSteelBoxes are actually shipping containers so they are weather and rodent-proof, and come equipped with a steel Lock Box to protect your padlock from bolt cutters.

Our service is extremely convenient because we bring the storage to you, so you only have to load and unload your items once. From our storage facility in Mississauga, ON, we're able to provide portable storage unit rentals and sales to residential and business customers in Mississauga, Brampton, Etobicoke, Milton, Oakville, Toronto and surrounding area. Whether you need secure storage at home or on the job site, BigSteelBox can help. Plus, you get AIR MILES® Reward Miles™ for the purchase or monthly rental payments of a moving and storage container.
*Monthly storage fee when container stored at a BigSteelBox location:
$29/mo for 8' and 10' or $39/mo for 20' - taxes apply
• Multiple locations across Canada
• Storage containers are extremely secure
• Flexible delivery options
• Multiple size options
• Load and unload once
• Storage at your home or at our location
• All locations backed by a Canadian Call Center
• Offers local and long distance moving services as well
Features
On Site Management
Door to Door Service Pick up and Delivery
Mobile Storage Containers
Multiple Container Sizes
Get AIR MILES® Reward Miles™
Hours
Office Hours

| | |
| --- | --- |
| Mon-Fri | 8:00am to 9:00pm |
| Sat | 10:00am to 9:00pm |
| Sun | closed |
Access Hours

| | |
| --- | --- |
| Mon-Fri | 8:00am to 5:00pm |
| | |
Facility Reviews
---
We use Big Steel Box for all of our onsite storage needs whenever we have a long term construction project. We can store our materials and tools safely and securely on the site, without having to carry everything back and forth every day. When we arranged the drop off / pick ups the staff are always on top of it and we always receive excellent service and they always deliver on time and the next day in most cases!
---
Every single person I interacted with had great customer service, I strongly recommend this company. It made our move pretty easy, thank you BigSteelBox!
---
We had a fantastic experience with Big Steel Box. From initial email, to figuring out possible options/prices, booking, drop off and pick up of the box. Our plans ended up changing and the box was not needed in the end, and Amantha (Big Steel Box Employee) was fantastic to coordinate with. I cannot recommend this company enough.
---
Great experience and customer service, top to bottom. 1 star missing only because they do not offer a weekly, prorated rate. Prompt pickup and delivery, good pricing and friendly staff. Thank you BigSteelBox!
---
The agreed time of deliveries and pick up were on time. You can take your time in loading and unloading if you are not pressed for time. Great service all around.