SmartStop Self Storage
3136 Mavis Road Mississauga, ON
1ST Month FREE - CALL NOW!
Photos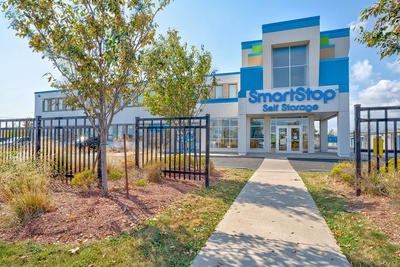 Hours
Office Hours

| | |
| --- | --- |
| Mon-Fri | 9:30am to 6:00pm |
| Sat | 9:00am to 4:00pm |
| Sun | 10:00am to 2:00pm |
Access Hours

| | |
| --- | --- |
| Daily | 6:00am to 10:00pm |
About SmartStop Self Storage
SmartStop Self Storage in Mississauga, servicing the areas of Lakeview, Oakville and Etobicoke, is the smarter way to store your belongings. Our self storage units feature climate control, video surveillance, wide driveways and deals like "1st Month Free" move-in specials. Whether you're downsizing, moving or just decluttering, the storage professionals at SmartStop Self Storage can help you decide which self storage unit size will work best for your needs.
Features
Climate Control
Drive-up Access
Security
Parcel Delivery Acceptance
Drive-in Loading Bay
Packing Supplies
Dollies & Carts Available
Payment Options
Hours
Office Hours

| | |
| --- | --- |
| Mon-Fri | 9:30am to 6:00pm |
| Sat | 9:00am to 4:00pm |
| Sun | 10:00am to 2:00pm |
Access Hours

| | |
| --- | --- |
| Daily | 6:00am to 10:00pm |
Facility Reviews
---
The staff are friendly and helpful. Initial prices are usually pretty good. Keep in mind the prices will fluctuate up. We would have appreciated them letting us know at the time of the rental that our price wasn't guaranteed. A good place, but ask lots about all the details of your contract.
---
I walked in to check out prices and the Girl in the office was very helpful! She really knew her stuff! I walked in with a list of questions and she was Very nice and patient with me... everything was explained very clear to me, she showed me sizes to get the idea of what I need! Unfortunately I didn't rent because I did get my apartment by the 1st but I recommend this place and will ask for her!
---
Christina made it extremely easy and seamless. Everything was perfect and no issues. Definitely recommend dealing with her next time. Explained everything thoroughly and hiccup-free.
---
We've used Smart Self Storage on two occasions over the last 5 years and we'll be back next time we need some extra space. They have always been great to deal with. The facility is clean and easy to access. The staff fosters a sense of community and is always around with a wave and a smile. A+
---
I've been looking into a few storage units for the past weeks and I must say this is where I'll be spending my money. Moving from a house to a condo is such a drag I have an absolute overspill of personal items I refuse to sell or get rid of because I know I'll be needing them in the near future. Enough about me and now let's focus on my experience with the representative I dealt with at the Mississauga location (Mavis/Dundas). Christina is an absolute scholar, she's very informative, intelligent, helpful, detailed orientated & knowledgeable of her job. To be honest I don't know much about storage units but I walked out there feeling like a high school graduate lol she showed me two units explained to me the in detailed information anyone would want to know before renting a unit and I must say I'll be securing this unit for February 1st. Customer service is lacking in today's society but Christina for sure is nowhere near this threshold. I hope she gets the true recognition she deserves especially in times like these where jobs have been lost left right & center the economy is dying slowly she's an absolute scholar, keep up the good work Christina.